WOODWORKER'S JOURNAL LIFETIME VIP MEMBERSHIP
The #1 Woodworking Resource Lifetime Access to 15,000 Plans & Projects
Plus Woodworking Tutorials, Premium Video Classes, Hundreds of Shed Plans, Softwares, Tools, Books, Resources, References, Discounts, Freebies, Priority and Privileges in Many Areas, Free Monthly Updates... All for VIP Members Only...
---
---
VIP Membership at a Glance
Do the Math and Save Over 90%
The calculation of your lifelong acquisitions with VIP membership is as follows: Please note: The future priority and privileges in various woodworking activities and organizations, such as promotions, discount opportunities, free books, softwares and tools are not included in the below calculation. When these are added, your savings will be incredibly much greater!
1. Lifetime Access to 15,000 Premium Woodworking Plans & Projects
Woodworkersjournal proudly presents more than 15,000 amazing Woodworking Plans and Projects!:
Only the VIP members will have the privilege to enjoy the result of years of woodworking experience and hard work of the professional woodworkers.
Whether you are a newbie or a professional woodworker, you'll be able to build whatever you want quickly and easily; from a simple chair to a luxurious furniture, or YOU CAN even renew your home completely with a new modern design!
Newbies will make it happen just like the professional woodworkers. Professional woodworkers will have access to any plan and resource they want.
Over 15,000 plans to keep for life, and the number is increasing everyday!
Tested, Improved and Perfected in more than 35 years by professional woodworkers.
Covers all types of home furniture, small wood craft plans, and everything in between, in hundreds of different woodworking categories. Click here for the detailed category list.
Save thousands of dollars to build high-end designer wooden furniture by following easy-to-follow directions.
Contains the EXACT plans for designer furniture projects! So you never have to deal with incomplete diagrams or blueprints.
Save hundreds of dollars: You never have to waste time and money in DIY stores.
Each project comes with detailed blueprints, schematics, step-by-step instructions, and full color guides.
You get a complete tools and materials list so there is no guess work!
Beginner or pro? Your skill level or experience doesn't matter, everything is laid out step-by-step in precise detail.
Cool woodworking tips and resources for you to produce your projects even faster without any loss of quality on the finished product!
Plus you get FREE LIFE-TIME updates! You'll get access to every new plan we release - so you'll never run out of ideas.
And a whole lot more...
---
The plans and projects are all Tested, Improved and Perfected by professional woodworkers.
Imagine the Time you have to spend for not only finding and gathering all of these plans and information together, but for testing and improving them!
Benefit from the Lifetime Woodworking Experience of not one carpenter, but of a Team of professional carpenters.
---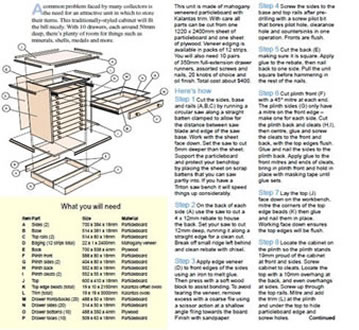 1. Step-By-Step Instructions
You get detailed projects with step by step, A to Z instructions that makes building projects super fast, super easy and super fun.
With the simple "hold-you-by-the hand" instructions, you can complete woodworking projects in the small fraction of the time it currently takes you.
It's like having a MASTER woodworker, by your side, guiding you through the entire project
2. Cutting & Materials List
You get exact cutting and materials list for every project.
You will be able to buy exact amounts which means you'll stop wasting your hard earned cash on wrong wood, wrong materials or the wrong quantity.
It saves time and cuts down waste. It saves money. You'll spend more time building, less time fretting.
3. Detailed Schematics
With sharp and colorful schematics included in each plan, there's simply no guesswork involved. The level of details makes the most challenging project a walk in the park!
When instructions are THIS clear, your project BUILDS ITSELF. All the pieces just "Click" into place.
You'll complete projects in a fraction of the time it usually takes you.
4. Views From All Angles
You get to see exactly how everything should look before you build them.
Most plans don't include this and you'll end up building something that doesn't look like the drawing!
You get intricate details of every angle, every corner, every joint. The plans will NEVER leave you guessing or scratching your head over any detail.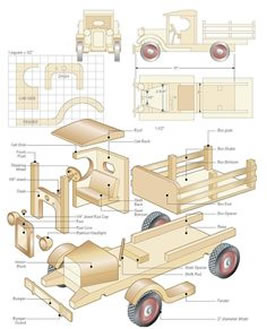 5. Suitable For Beginners & Professionals
We've got plans that cover all levels of skill and competence. You do NOT need to be a master woodworker or have expensive machinery to use our plans.
Whether you're a complete beginner, an amateur woodworker with hand tools or a seasoned pro, you'll find thousands of projects that will suit your level.
2. Hundreds of Shed Plans + CAD/DWG FILE
As well as thousands of woodwork projects, you will get hundreds of shed plans at no cost. You will create remarkable outdoor garden sheds and woodwork projects easily.
The secret is in the proven shed plans, step by step guides and detailed CAD/DWG files.
Materials lists provided so you'll know exactly what to buy. No more wasting money buying the wrong materials.
All the planning done for you... so you never have to worry when you start building your first shed.
With detailed instructions and easy to follow guides.
You'll learn all of the techniques, including jointing, bonding, fastening, laminating and more! This is BY FAR, the largest and best woodworking and shed plans package you'll ever come across.
3. "Woodworking Made Easy" Guide
If you order today, you will get this great bonus FREE! This free guide is worth more than $100 alone!
Get over 200 pages of step-by-step woodworking tips and tricks!
These guides cover all of the bases - from how to use various woodworking tools properly and effectively to how to do advanced techniques like 'dovetailing'!
Master difficult techniques with detailed drawings, diagrams and photos.
The bonus guide covers wood selection - when to use hardwoods, when to use softwoods and which type of wood to choose for various projects.
You'll learn all of the techniques, including jointing, bonding, fastening, laminating and more!
4. Books, Resources, References, Softwares and Tools
Books, Resources and References
You will get access to hundreds of books!! You will find whatever you are seraching for about woodworking in these hundreds of resources! Just a few of the topics are:
"FURNITURE and DESIGN", "GENERAL WOODWORKING", "CARPENTRY", "TURNING", "CARVING", "FINISHING", "UPHOLSTERY and LEATHER WORK", "PATTERN MAKING", "SHOP MATHEMATICS and CALCULATION", "BLUEPRINT READING", "HAND TOOLS", "MACHINE TOOLS", "SHOP MACHINERY", ........ and many more .........
Softwares and Tools
We are giving you the softwares and tools we use for our work.
If you are dealing with woodworking, especially if you work with plans, you need the softwares that opens the CAD/DWG files. There are many free softwares in the market, and it is really difficult to find out which one to use, which one is the best and so on... Thus we save you from this frustrating search too! And at no cost!
5. Sketchup for Woodworkers Video Series
SketchUp is a fantastic design tool for woodworkers that can save you time, materials and money by letting you test your designs before you even make your first cut. But, as with any computer software, there is a learning curve.
This comprehensive video series provides you with the specific advice that you need in order to use the program effectively. Created by a woodworker from a woodworkers perspective, you will create beautiful furniture designs without costly construction errors.
It is a premium resource especially for woodworkers who are just picking up Sketchup for the first time as well as those looking to learn new tips and tricks.
Let this tutorial video series help you learn how to get the most out of this versatile tool.
6. Wood Turning Video Series
Another huge video series consisting of hundreds of videos, packed with information on everything you need to know about turning wood.
This series is the only resource a beginner needs to safely and confidently get started in the craft of woodturning, along with numerous tips and techniques for the most seasoned experts.
The series is abundant with hundreds of step-by-step descriptions for an abundance of wood turning techniques, detailed, hands-on instructions for turning wood, how to use lathes, how to secure wood on your lathe, turning tools and materials, fixtures and chucks for woodturning, sharpening tools, and many more..
More than merely a reference for dedicated turners, this series is designed to help you improve your skills and broaden the range of projects you can tackle at the lathe, (whether you're a beginner or an advanced turner) by presenting a carefully crafted combination of how-to advice and interesting, engaging projects. Packed with hundreds of projects, you will continue to sharpen your turning skills throughout each video.
With the knowledge of only a handful of essential joints, a woodworker can build anything he can imagine. Once learned, these joinery methods can be used to create almost anything the woodworker's mind can imagine.
A project as simple as a box, for example, has a dozen ways to solve the joinery question. And, since many joints can be used interchangeably, this video series will lead you through making the right choice for your project based on the function of the piece, the time you have to work on it, your skill level, and your tooling.
Best of all, this video series features an appealing, modern visual approach and is completely up-to-date regarding tools and methods. You will learn multiple ways to master: dovetails joints, butt Joints, mitered butt joints, half-lap joints, tongue and groove joints, mortise and tenon joints, biscuit Joints, dado joints, rabbet Joints, box Joints, which joinery technique is the strongest, and many more...
8. Finishing Video Series
A great finish can make even a simple project look terrific. A bad finish can ruin the most well-built, sophisticated piece of furniture. Finishing can be a mystifying and daunting task to many woodworkers and DIYers who fear wrecking their projects at this late stage in the process.
This tutorial video series is the most practical and comprehensive video series that brings together the best information on a rich variety of finishing techniques. You will find valuable tips and techniques, many step-by-step projects, practical methods, and priceless secrets and instructions from a team of professional woodworkers.
Some of the many topics included in this series are: How to apply a finish from A to Z, Step by step projects, Solutions to finishing problems, How to finish like an expert, Glass-smooth results, How to succeed with troublesome products, how to sand wood like a professional, Wood finishing for beginners, Food safe wood finishing, Preparation and tools, and many more...
9. Hand Plane Video Series
Everything you need to use your handplanes! This video series is an indispensable guide for woodworkers.
No woodworking tool is more satisfying, quick and precise to use than a handplane. Planes can process timber in its rough state, bring boards up to a glimmering smoothness, cut rabbets, dados, grooves and other joints, and trim wood with a precision that has yet to be matched by power tools. Yet many woodworkers -both beginners and professionals- are intimidated by handplanes. This video series is here to set the record straight.
"Hand Plane" Video Series contains everything you need to choose the right plane both for your project and for your budget, sharpen it and use it successfully. You will find many information on plane basics, countless tips and techniques on hand plane usage, how to set up, and use planes for fantastic results, step by step examples, and much more...
Well-sharpened chisels may be the most important tools in the woodworking shop. They can be used to make a rough board flat and smooth, to cut slickly fitting joints, or to shape a delicate edge.
In this video series, expert craftsmen explain how they choose, sharpen, and use every kind of chisel correctly. There's advice on tool maintenance, hand tool buying guide, tips and tricks to get a really sharp edge on a chisel, understanding a starter set of lathe chisels, and many more...
11. Tool Sharpening Video Series
There is much discussion among artisans when it comes to improving the cutting behavior of tools quickly and permanently. Inside "Tool Sharpening" Video Series, you will learn through detailed instructions how to get perfect edges on your woodcarving and woodworking tools, in the best sense of the word―sustainable way.
Each video explains every step of every process. You will find numerous tips and tricks, and expert techniques for every skill level.
Filled with valuable tips, this video series will be your ideal companion on the path to acquiring sharper and better edges on all your hand tools.
12. Measuring & Marking Tools Video Series
You don't need advanced training in math to build complex furniture. This video series provides dozens of beautifully simple techniques for highly accurate measuring, marking, and layout using a number of basic tools.
Good habits of measuring and marking not only ensure high quality but also save materials and money and increase productivity. "Measuring and Marking Tools" Video Series shows how to do the job right the first time, as well as many tips and tricks, and expert techniques for even the most seasoned woodworker.
If you find it more enjoyable to end up with clean, professional-looking work than with sloppy work, "Measuring and Marking Tools" Video Series gives you what you want. You'll find all the information that a beginning woodworker needs for layout, marking and measuring, that will last a lifetime, and that any experienced woodworker will want to sharpen skills through each video series!
What our VIP members say about us?
If you enjoy woodworking and are considering building some furniture or crafts, this isn't something you SHOULD use, it's something that you would be insane not to... The level of detail and the sheer amount of plans is mind-boggling.
I bought this VIP membership to get more ideas for new projects and it didn't disappoint. It is jammed packed with tons of inspirations. It is a joy to learn from them and I look forward to more plans in future.
This is the best investment I've made in a long time. These plans saved me thousands of dollars and provided me the joy of building my own custom bookshelf. The wife loves it!
This package is a great bargain. You get plans from basic crafts up to large furniture designs and it is easy to follow. It completely exceeded all my expectations.
The plans include detailed cut-outs and materials lists which are very useful." I really enjoyed the collection. Highly recommended for novice and professional woodworkers alike!